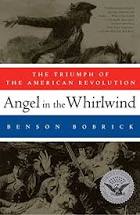 Angel in the Whirlwind: The Triumph of the American Revolution - Benson Bobrick
Regular price
$5.00
$0.00
Unit price
per
Paperback
Angel in the Whirlwind is the epic tale of the American Revolution, from its roots among tax-weary colonists to the triumphant Declaration of Independence and eventual victory and liberty, recounted by Benson Bobrick, lauded by The New York Times as "perhaps the most interesting historian writing in America today." Overwhelmed with debt following its victory in the French and Indian Wars, England began imposing harsh new tariffs and taxes on its colonists in the 1760s. Rebellion against these measures soon erupted into war. Bobrick thrillingly describes all the major battles, from Lexington and Concord to the dramatic siege of Yorktown, when the British flag was finally lowered before patriot guns. At the same time he weaves together social and political history along with the military history, bringing to life not only the charismatic leaders of the independence movement, but also their lesser-known compatriots, both patriot and loyalist, English and American, whose voices vividly convey the urgency of war.

Illuminated by fresh insight, Angel in the Whirlwind is a dramatic narrative of our nation's birth, in all its passion and glory.
Vermont Author 
550 Pages

May have small remainder mark.
---